I want a perfectly striped Klaralund. I'm going to have a perfectly striped Klaralund. I am so close to finishing.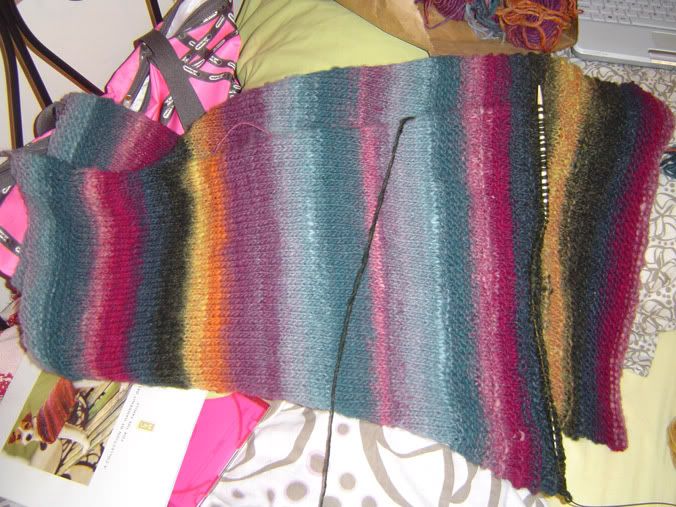 I have managed to duplicate my original irregularly striped sleeve. Now the only issue is that red at the top. I've run out of the red-to-pink part of the yarn that tops the first completed sleeve. Soo, realizing I have tons of purple parts of the yarn, I'm going to finish sleeve 2 with purple and then rip back sleeve 1 and complete the match. I met Annie Modesitt! She is so funny! And oh my god she is the fastest knitter ever! I wish I bought her book when I saw her, but I was not paying in quarters. I'll paypal buy one later on. I don't think I was part of the class, I just followed along, it was fun!
Ina is super nice (and had perfect tensioned knitting unlike me), and posted about it and a picture
. (I am totally unphotogenic in pictures not taken by me. So to make up for that picture, here are a
whole ton of mee pictures
.) Also notice the Kureyon scarf, specifically, Forsa from the book Klaralund is in. I love it. It does not match my outfit, I wove in ends and put it on. Proper picture and matching clothing later on. Trailer homey and I have the hottest phones ever.